Back to Rotating equipment
Ksb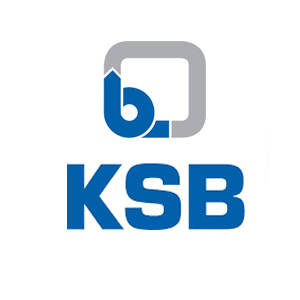 Pumps, valves and systems for water applications
As a reliable systems supplier KSB provides its customers with expert consulting on suitable pumps, valves and systems for water applications.
KSB offers ideal solutions for:
Water extraction
KSB provides innovative technology for water extraction and groundwater management. Our products move water reliably and efficiently.
Water treatment
KSB links technical progress and customer benefits with many years of experience in water treatment and conditioning as well as in seawater desalination.
Water transport
KSB products reliably provide water transport and water distribution
State-of-the-art industrial applications – with KSB pumps and valves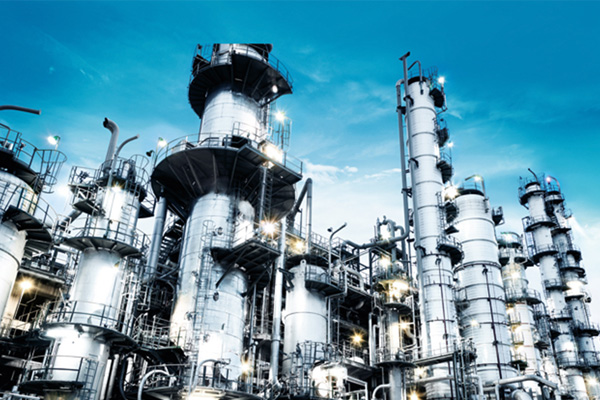 Industrial pumps and industrial valves from KSB are designed for almost all applications in industry and work under the harshest of conditions while achieving the highest levels of safety.
Innovative technology for industry and utmost reliability
Whether standardised pumps, canned motor pumps, submersible borehole pumps, diaphragm or butterfly valves – KSB's cutting-edge, technically advanced product range for industrial applications covers virtually all requirements of processes in industry. High-performance industrial valves from KSB also provide efficient, durable and ecological service.
KSB products for industry are highly versatile and suitable for use in a vast range of possible industrial applications, from the pharmaceutical and food and beverage industries to fire protection, snow-making and sugar production. In addition, KSB products offer highest levels of quality and performance. Industrial pumps and valves from KSB are designed to meet the harshest operating challenges: extreme temperatures, high pressures, aggressive, corrosive or solids-laden fluids – KSB products always ensure smooth operation. Reliable, safe and sustainable.
Pumps and valves from KSB – for efficient operation of power stations
Smooth operation and top reliability in power stations – which is what KSB products stand for. Reliable power station pumps and high-pressure valves make KSB market leader the world over.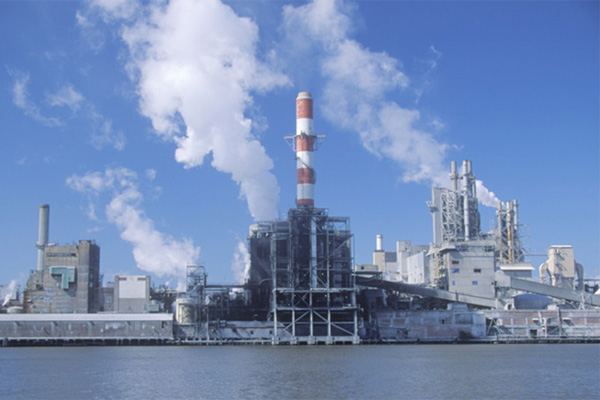 KSB's technically advanced and comprehensive pump programme as well as our valves to DIN/ANSI standards convince power station operators and plant engineering contractors all over the world. KSB products are ideally suited for economical and reliable energy generation.
Reliable operation of KSB power station pumps and valves
KSB's power station pumps give reliable service in primary and secondary circuits all over the world. They reliably handle boiler feed water, condensate, cooling water and coolants and recirculate boiler water. Our high-pressure globe, gate and butterfly valves safely shut off these fluids.
Applications of KSB's power station products
KSB's power station pumps and high-pressure valves are ideally suited for use in nuclear and fossil-fuelled power stations. Furthermore, they are especially suitable for renewable energy applications and for operating district heating systems. Power station pumps and valves from KSB are also employed in power stations with carbon capture and storage.
Optimise your system with KSB's innovate automation and drive solutions.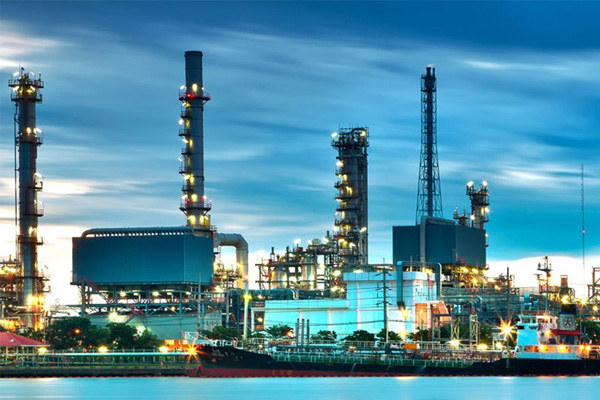 For new installations or retrofits in existing systems, KSB offers the right automation technology. It can easily be integrated in building management or process control systems.
Make use of intelligent KSB automation solutions to control pumps and other system components, and tap previously hidden potentials for saving energy. Tailor-made system solutions by KSB provide the preconditions for an energy-efficient operation of your pump system; they also ensure operating reliability and system availability.
PumpMeter. Gain a deeper insight into your pump.
Is your pump operating in an efficient and cost-saving manner? The innovative PumpMeter pump monitoring unit identifies the current operating point and measures all key data of the pump. Its EFF energy efficiency icon signals potential for energy savings.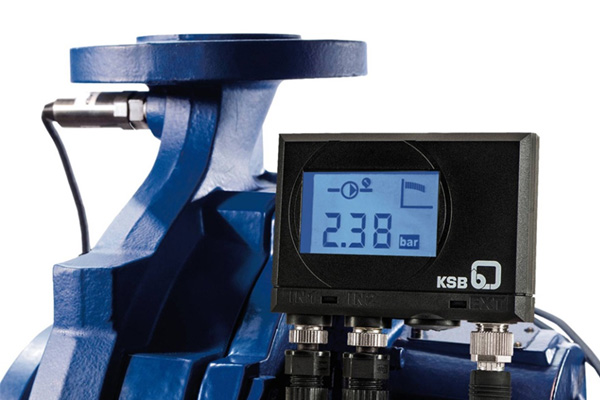 KSB's PumpMeter clearly shows you whether your pump is operating in its optimum. It measures the suction and discharge pressures of your pump around the clock and establishes the pump's operating point based on the differential pressure. The direct connection to your process control system allows you to have central access to all relevant data. This helps you decide on where to implement optimisation measures and save.
PumpMeter replaces the pressure gauges upstream and downstream of the pump, the pressure transmitter for the control functions, as well as any additional monitoring equipment. The direct connection to your process control system allows you to have central access to all relevant data. This helps you decide on where to implement optimisation measures and save.
Optimisation at a glance
For optimum monitoring the easy-to-read display on KSB's PumpMeter alternates between measured and calculated values. After a few operating hours the EFF energy efficiency icon will appear on the display to indicate potential energy savings.
KSB SuPremE® in IE5*: the world's most efficient magnet-less pump motor
The energy diet – good for the environment and your budget: The KSB SuPremE® IE5 motor* is the innovative drive solution for centrifugal pumps and enables an excellent eco-balance
PumpDrive: flexible speed control for maximum efficiency
PumpDrive is the latest generation of KSB's variable speed systems. It ensures demand-driven pump operation and, hence, maximum energy savings.
Increases pump efficiency: PumpDrive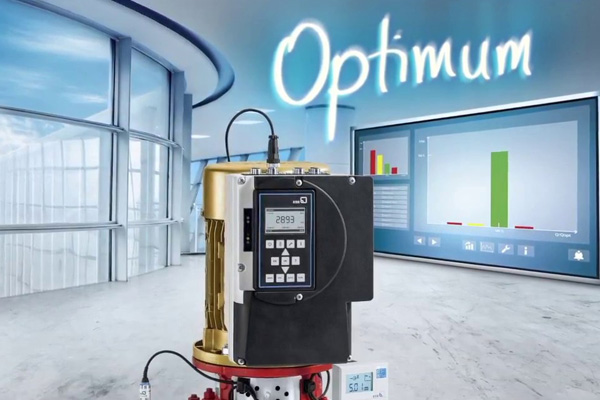 Saving energy with PumpDrive? PumpDrive continuously matches pump speed to system requirements. This ensures energy-efficient and reliable operation of the pumps. Speed control of pumps is highly recommended, especially for systems with fluctuating demand. Demand-driven operation through speed control saves up to 60 percent on energy and increases both the efficiency and the availability of the pump.
PumpDrive lowers energy costs and reduces the pump's life cycle costs by controlling the pump input power. Maximum energy savings can be realised by combining PumpDrive with the PumpMeter pump monitoring unit and KSB SuPremE®, the world's most efficient magnet-less pump motor.
Sample calculation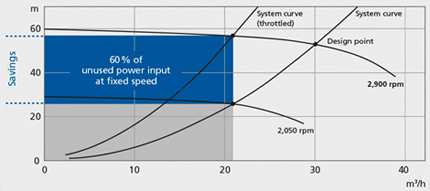 Etanorm PumpDrive 32-200/552. A demand-based reduction in the flow rate by just 30 % translates into savings of € 1,712/8,000 operating hours (at 12 cents/kWh).
Safe and reliable pump operation
Reliable pump operation requires continuous monitoring of the installation. The pumps' operating status has to be checked frequently. PumpDrive therefore continuously records and processes values, readings and data to monitor the permissible operating range at all times and ensure system availability.
Special features of PumpDrive: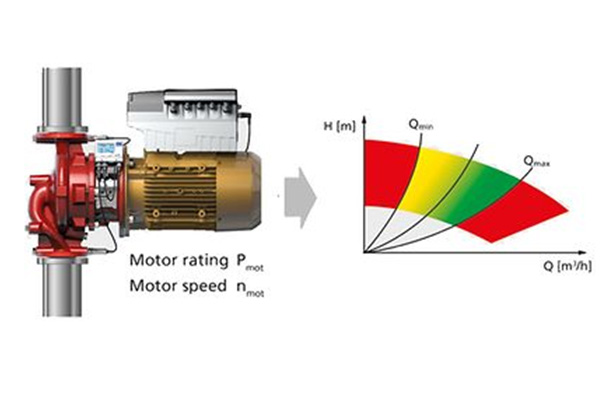 Characteristic curve control and flow rate estimation
PumpDrive monitors the pump's characteristic curves and estimates the current operating point on the basis of the motor input power and the current speed. This, in turn, allows PumpDrive to detect operation outside the permissible range such as extremely low flow, dry running or overload conditions. Predefined settings allow messages to be output in the case of extremely low flow or overload conditions. Depending on the settings, the pump set is stopped, which protects pumps against failures and damage resulting from operation in an impermissible range.
Continuous flow rate estimation is another essential PumpDrive feature. The flow rate is estimated on the basis of power measurement and the characteristic curve function. The estimated flow rate provides essential information for dynamic pressure compensation and other important functions.
Waste water functions package: optimisation of pump operation in waste water applications
PumpDrive increases the availability of waste water pumps with functions designed to control speed in a targeted manner. This includes the flushing function, flow velocity monitoring and anti-contamination measures.
Pressure boosting functions package: constant system pressure thanks to PumpDrive
Constant system pressure plays an important part in ensuring the availability and efficiency of pressure boosting pumps. The new PumpDrive integrates special functions that cater in particular to the special requirements in pressure boosting applications: the pipe filling mode and the sleep mode.
Redundancy by dual pump management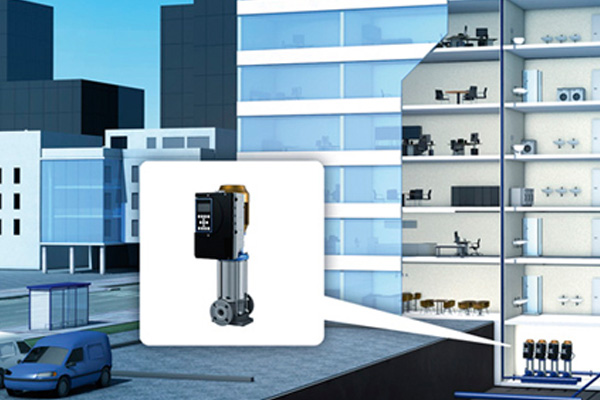 Thanks to integrated dual pump management, the predefined setpoint for the system is ensured at all times by way of two identical pumps. A distinction is made between two operating modes.
The setpoint is achieved with one pump operating at rated values. (2 x 100 %)
The system's rated operating point is achieved with both pumps operating at rated values. (2 x 50 %)
Flexibility in diverse applications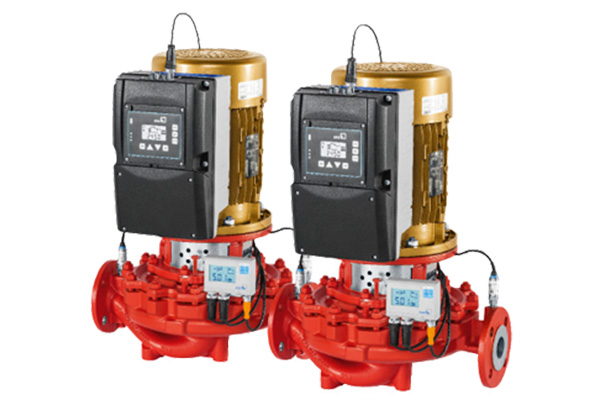 For every requirement and every application: With a broad range of ratings from 0.37 kW up to 110 kW (up to 1.4 MW available on request), PumpDrive provides for top levels of operating reliability and optimum efficiency in industrial applications much in the same way that the Eco design caters to building services applications.
PumpDrive's flexibility is also reflected by its mounting options: the speed control system can be mounted to the wall, on the motor or in a control cabinet. The three mounting options allow PumpDrive to be positioned where you need it, meeting individual requirements and conditions on site.
Motor-mounted model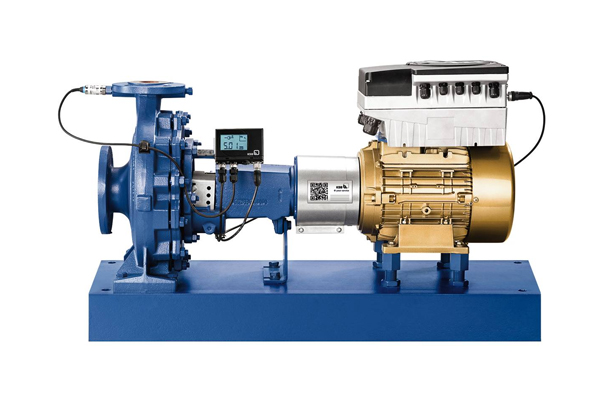 As the new PumpDrive has been perfectly matched to the motors of KSB pumps, it can be mounted directly on motors up to ratings of 55 kW. Benefit of motor mounting: retrofits eliminate the need for installation space in the control cabinet and the search for a suitable section of wall.
Wall-mounted model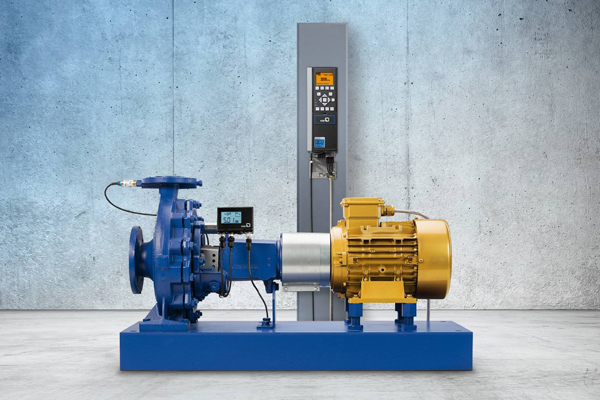 Should the space in the control cabinet be restricted or motor mounting not be possible, wall mounting is an ideal alternative. Wall mounting allows the pump and PumpDrive to be arranged in the immediate vicinity of each other.
Cabinet-mounted model
If the pump is installed in a demanding environment, PumpDrive can be mounted in a control cabinet. Cabinet-mounted PumpDrives can be used up to ratings of 1.4 MW.
Easy to install, operate and maintain
Pump and PumpDrive parameters are factory-set.
Easy-to-fit M12 cable connector for joining PumpMeter and PumpDrive
Optionally integrated master switch for disconnection of the entire pump set from the power supply and protection against unintentional start-up
Functional and convenient: the My PumpDrive app
PumpDrive can be controlled via a smartphone display. KSB's handy My PumpDrive app is available free of charge in English, French and German from the iTunes Store.
Operation and monitoring: Access to key parameters, display of alerts and warnings, presentation of trends and graphical display of current parameters
Commissioning wizard for the three main applications: open-loop control, discharge pressure control, differential pressure control
Managing data records: Send parameter sets from your smartphone to PumpDrive, from PumpDrive to your smartphone, or per e-mail to your PC.
Variety for maximum efficiency
The new PumpDrive is available in two configurations, each of which offers a different level of functionality. One of them is the fully equipped model for flexible applications and the exacting demands in industry. The second model, the Eco version, includes the full range of basic functions and is ideal for use in building services applications. With its different models, KSB supplies pump variable speed systems matched to the specific requirements.
Are you looking for the right software for your automation technology?
KSB makes life easy for its customers by providing a software package for servicing and commissioning automation solutions – including WIBU key download for optimum protection.
PACTware is a vendor- and fieldbus-independent software for operating field devices. KSB uses this software as a standardised service tool for automation products.
With PACTware KSB customers can load drivers (so-called DTMs = Device Type Managers) for field devices from different manufacturers into the service tool. They will then be available for selection in an electronic hardware catalogue.
Hardware requirements for the automation tool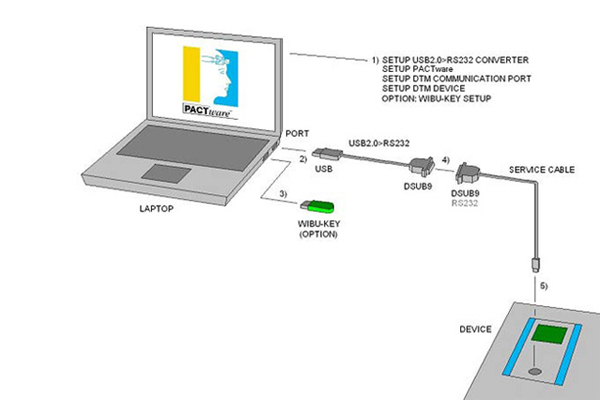 A laptop or similar can be used for the display and for setting parameters. It has to be connected to the field device via the RS232 or USB interface (only for PumpDrive 2/PumpDrive 2 Eco). PACTware requires a minimum of 100 MB hard disk space and 50 MB main memory. The laptop or PC should have a Pentium III 400 MHz processor and, ideally, an XGA graphics card. It further requires a Microsoft-compatible mouse or equivalent pointing device.
For laptops without RS232 interface, a converter from USB to RS 232 is used; once the converter has been connected to the USB2.0 interface and the corresponding driver has been installed, it serves as an RS232 connection. For PumpDrive 2/PumpDrive 2 Eco this converter is not required.
Licence and copy protection with WIBU key
Authorisation for changing parameters on the "Service" access level can be granted with a dongle. In order to protect the devices from being parameterised by untrained personnel, KSB uses a protective key (also known as dongle) by the company Wibu-Systems
Comprehensive KSB services and original spare parts
Professional, individual KSB service and KSB original spare parts: KSB offers bespoke service and spare parts concepts for pumps, valves and other rotating equipment, whatever the manufacturer: the perfect solution over the entire life cycle.
Whether industrial or municipal system and power station operators, KSB Service serves customers from all sectors. Our service network, with more than 3,000 specialists at over 170 service centres worldwide, is the perfect basis for first-class pump and system service.
Thanks to ongoing training, KSB's specialists are excellently qualified to perform service work on pumps around the world. In addition, our specialists satisfy all current certification standards and also service products from other manufacturers